The selected photographs from last year's competition competition were published by Prestel in Assignments - The Press Photographer's Year on 1st June 2006.
Please send order enquiries by e-mail to us at: info@theppy.com
New discounted prices! (RRP 19.99)
£12.50 inc P&P for UK orders
£15.50 inc P&P for Europe
£20.50 inc P&P for Rest of World

Bulk order discounts are available

Please allow 14 days for delivery
Thank you.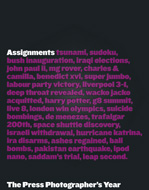 ISBN: 978-3-7913-3596-4
136pp 240x300mm
Printed by Passavia
www.passavia.de