Exhibition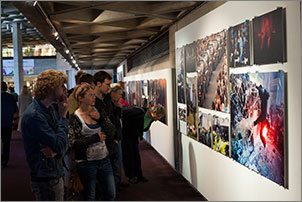 The 2011 exhibition at the NT
The vast expanse of the National Theatre's Lyttelton Theatre foyer will, for a seventh time, provide the setting for the exhibition of the complete edit of the photographs from The Press Photographer's Year 2013.
The exhibition opened on Saturday 6th July and will run for 7 weeks, until Sunday 1st September.
Open Monday to Saturday from 09.30am to 11:00pm and on selected Sundays from Noon throughout the summer. Admission is FREE.
Taking the work of press photographers from the confines of the printed page, and out into the public arena is very important to us. Our first custom designed exhibition of the inaugural in 2006 was a spectacular success with over 150,000 visitors over the 6 week run.
All the subsequent exhibitions have been extended due to popular demand, each with an audience of
over 250,000 people.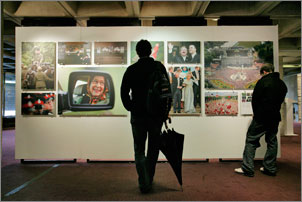 The 2007 exhibition at the NT (umbrella not usually required)